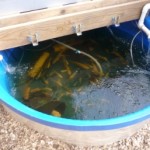 Aquaponics is a high efficiency method to make efficient use of a single input of fish meal to produce food fish and circulate the waste products from the fish to grow vegetable and fruit plants.  This efficiency reduces total water consumption and produces two food crops at the same time.  It also solves the wastewater problems with conventional aquaculture.
ZeoPro LiteTM is a unique natural zeolite, functioning as a biofilter, plant growth medium and an ion exchange fertilizer. It's a plant demand nutrient delivery system, unlike any other product in the marketplace. It serves the dual purpose as an aquaculture biofilter and a high efficiency plant growth medium.
Nutrient Use Efficiency
ZeoPro Lite has high cation exchange (CEC) properties that provide high efficiency nutrient uptake of circulating fish waste nutrients in the growth media of pebble bed growing trays of aquaponic systems. The high CEC of ZeoPro Lite removes ammonia that is toxic to the fish from the water and slowly delivers it to vegetable crops. Superior vegetable biomass and fish production is achieved.
Better Fish Growth
Scientific studies have shown that the use of a select natural zeolite, ZeoPro Lite, functioning as a combination biofilter and as the plant growth medium in aquaponic systems can simultaneously boost the yield of Tilapia fish by 16 % and lettuce yields by 450% compared to systems without the zeolite.
For more information about ZeoPro LiteTM and our other products visit the ZeoPro Products page.