ZeoPro and Sports Fields
ZeoPro has years of successful applications in sports fields around the world.  There is no better way to increase root zone cation exchange capacity and water holding capacity.
The Benefits Are Many:
Reduced fertility requirements due to higher nutrient uptake efficiency
Reduced nutrient leach losses to drainage systems; and associated environmental protection benefits
fast and deep root development during establishment
Lower water consumption from good plant available water holding yet effective drainage for excess water
Fast healing of core aeration maintenance
Drought tolerance improvements compared to other commercial soil amendments
Proven Performance and Research
ZeoPro performance for golf and sports turf is supported by independent university research, and many on-field applied research demonstrations across the USA and in other countries.
ZeoPro has been compared in many of these research studies to competing and popular soil amending products including porous ceramics, diatomaceous earths, calcined clays, and others.   These products provided only physical benefits such as drainage and porosity, while ZeoPro regularly outperforms these products due to its superior combined benefits of excellent physical properties, its built in nutrients, and its nutrient delivery and efficiency properties.
ZeoPro stimulates root growth and speeds establishment.  This has been repeatedly shown in university research.  ZeoPro's unique feeding mechanism reduces overall fertilizer use while creating a more robust turf.  The picture below shows its incorporation into the Denver Broncos Stadium.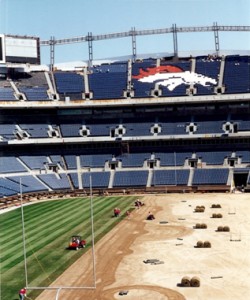 ZeoProTM applied to the construction of the Denver Broncos field at 5% by volume for 10 inches (25 cm) root zone depth has reduced the N and K fertilizer consumption by 50% to 65% compared to a typical sand based field by reducing leach losses and increasing plant uptake/fertilizer utilization by the turf grasses. This means lower environmental impacts from field drainage to natural waterways, and lower maintenance costs. ..and superior turf playing surface.
Many other golf courses and major sports fields have successfully used ZeoProTM including National Football League fields, Major League Baseball fields, university sports fields, horse race track infields, and a Grand Prix facility track.